The Pros and Cons of 10 Countertop Materials
Nov. 10, 2020 | Written by: Lori Fox

The Pros and Cons of 10 Countertop Materials.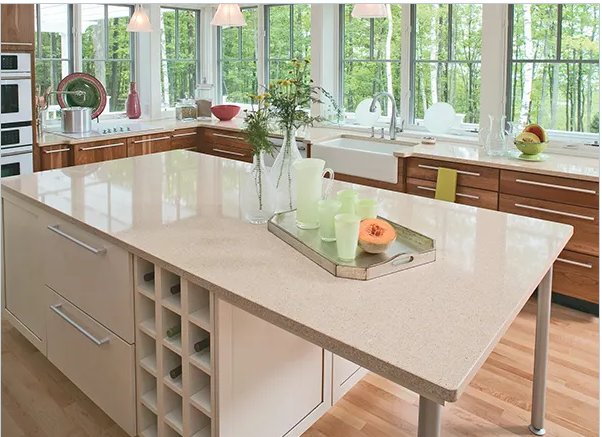 Have you been wondering what kind of countertop to use in your home?  Durability and beauty are the determining factor for most people.  We have tested the durability of the most popular materials to provide you with a honest comparison. 
To test durability we stained, sliced, scratched, scorched, and nicked 14 materials, including a new ultra­compact surface called Dekton.  We found big differences among materials but little variation among brands, except for recycled glass, so we've rated materials. Here are the pros and cons of 10 countertop materials.
The top rated material was a quartz!

As chameleons go, quartz is impressive. The man-made stone offers an increasingly realistic look mimicking materials such as marble, granite, concrete, and more. But quartz offers easier maintenance than those materials. Combine those qualities with granite fatigue and you can see why quartz is gaining in popularity. Quartz is also among the top-rated countertop materials in Consumer Reports' tests.
Bamboo
It might be eco-­friendly, it adds warmth, and it looks great at first, but it's easily stained, scorched, and nicked. Check if you can use near a sink, be­cause moisture can warp it. Some may need mineral­oil beeswax reapplied.
Butcher block
Varnished butcher block was very stain­ resistant but terrible at every­thing else. Oil­-finished wood was better at resisting heat, but stains spread and were impossible to remove. Not a good choice for a sink area.
Concrete 
It's custom ­formed, so quality may vary. Concrete chips and scratches easily, and can develop hairline cracks. Topical sealers can protect it against stains but not heat. Penetrating sealers can handle heat but not stains.
Granite 
The real deal. Each stone slab is unique. Heat, cuts, and scratching didn't harm the granite we tested, but corners and edges can chip; let a pro repair them. Polished and matte finishes resisted most stains when properly sealed. Gran­ite needs periodic resealing.
Laminate 
Inexpensive and stylish options with decorative edges abound, including Formica's cool Jonathan Adler Collection. Stains and heat didn't damage the laminates we tested, but cutting directly on it does, and abrasives can mar.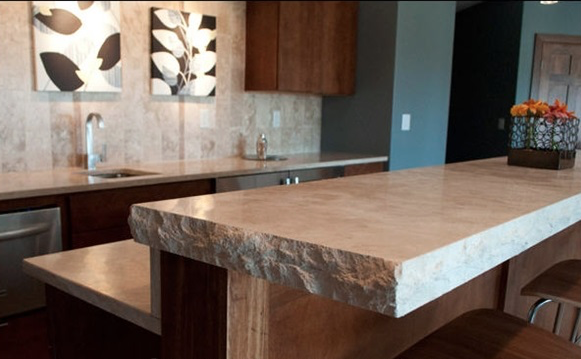 Limestone
It's attractive but impractical in a busy kitchen. Limestone resists heat well, but it nicks, cuts, and scratches easily, and even a high­ quality sealer didn't fend off stains. So blot spills immediately and periodically reseal.
Marble 
Marble takes on a patina, to some, but others see it as marred. Small nicks and scratches can be polished out, but marble chips easily and needs to be resealed periodically. On sealed marble most stains wiped away with water.
Quartz
This mix of mineral, color, and resin is meant to mimic stone but is more du­rable and requires less maintenance, making it a good choice for a kitchen that gets a lot of use. Hot pots, serrated knives, abrasive pads, and most stains were no match for quartz.
Recycled glass
Large shards create a bold look; finely ground glass looks subtle. Resistant to heat, cuts, and scratches, but chips and stains can be a problem. And un­like other recycled ­glass counters we tested, Cosentino's Eco line developed a thin crack during our heat tests.
Soapstone
It's not as common as granite—and it's stunning at first. It resists heat dam­age, and small scratches can be sanded finely, then coated with mineral oil. But it nicks, cuts, and scratches easily, and some tough stains won't wash away.